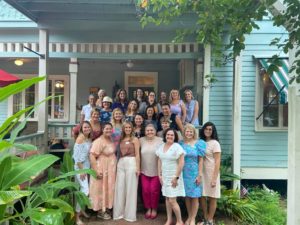 Who is the Junior League of Greater Covington?
We are movers and shakers, mothers and daughters, students and graduates, activists and philanthropists, dreamers and believers. From all generations, all walks of life, bound by a single goal: to improve the health and well-being of women, children, and families in West St. Tammany Parish.
We welcome all women who value our mission. Junior League of Greater Covington (JLGC) is committed to inclusive environments of diverse individuals, organizations, and communities. Our membership includes executives, community leaders, entrepreneurs, mothers and professional women from diverse backgrounds.
We have served the West St. Tammany Parish community since 1977, and each year our membership impacts the community with over 1,500 volunteer hours.
We do this through:
Leadership
Advocacy
Community Outreach
Training and Education
Why join us?

If you want to be inspired, develop skills that will impact your life, become a stronger leader, create positive change in your community, build lasting friendships, all while being surrounded and supported by a group of phenomenal women then this is the place for you!
Interested in learning more about recruiting events? Add your name to our distribution list here.
Looking to transfer or reinstate your membership? Please email corresponding@jlgc.net to begin the process of joining JLGC.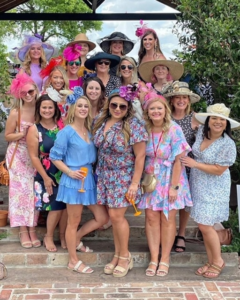 More Information on the New Member Provisional Class
The Junior League of Greater Covington trains a class of first-year members (Provisionals) to be effective volunteers and leaders in our community each year. Provisional members complete a comprehensive training series that allows them to learn about our League structure and programs, as well as experience some of our community programs first-hand that begins in August and concludes in May. There is also a financial component, however, payment plans are offered and encouraged as JLGC feels no woman should feel finances are a barrier to leadership.
Once a Provisional member completes their provisional year, they will be installed as an Active Member and get the opportunity to serve in a unique community, leadership or fundraising placement role within JLGC.
Additional Benefits of Membership:
In-League Social Events (unlimited)
Installation Banquet for New Active Members (After Provisional Year Completed)
Leadership and Training Opportunities
Develop Useful Skills for Life and Career
Networking and Affiliation
Lifelong Friendships
Engagement in Community Activities
Transferable Membership (Leagues are throughout the US, Mexico, Canada, and England)
We look forward to your membership! Email our membership committee with any questions at membership@jlgc.net