Junior League supports women, period during menstrual hygiene day and every day.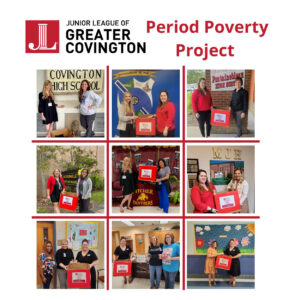 Many female students would rather miss class than go to school while menstruating if they lack access to feminine hygiene products, according to the State of the Period study. 1 in 5 women, ages 13-19, cannot afford menstrual products. Poverty plays a large role in access to these products, but also a cultural stigma & feelings of shame for some girls.
Thank you again to all of our JL member researchers, donors, packers and deliverers that made our poverty project possible! We learned much more about Period Poverty and the needs in our community and were able to create period poverty boxes for various. Nine of our boxes went out to St. Tammany area schools and have girls covered for the semester.
If you'd like to help donate sanitary products you can bring them to Dogwood Cottage or donate to JLGC at givebutter.com/donatetojlgc and put Period Poverty in the memo.