REQUEST TO RENT THE JUNIOR LEAGUE OF GREATER COVINGTON'S
HEADQUARTERS FOR YOUR NEXT EVENT!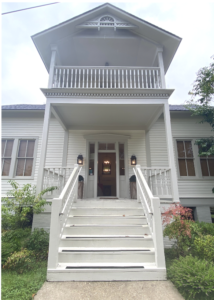 The Junior League of Greater Covington's Headquarters is located in historic Downtown Covington on Columbia Street. The rental is available for use by both members and non-members. This is a great event space for showers, rehearsal dinners, parties, luncheons, business meetings, club meetings, birthday parties, receptions, and training.
The Rental property includes:
1. Great Room – 45-person capacity
2. Warming Kitchen
3. Two Full-service Bathrooms
4. Courtyard
5. Ample Parking
​
Also, available rentals include use of tables, chairs, and AV equipment. Our beautiful building could be the perfect location for your next event. Plus, when you are renting for the Junior League of Greater Covington you are supporting our non-profit, which is committed to building better communities and developing women leaders in Southeast Louisiana.
Review the Rental Agreement and read more about what's included in the rental details here.
For Questions and to check availability, submit an inquiry today by clicking the application link below.