LAKEVIEW REGIONAL MEDICAL CENTER AND THE JUNIOR LEAGUE OF GREATER COVINGTON HOST ANNUAL GIRLS HEALTH DAY
Lakeview Regional Medical Center, a campus of Tulane Medical Center, in collaboration with the Junior League of Greater Covington, will host their annual Girls Health Day on Saturday, April 1 from 9:00 a.m. to 12:30 p.m. on the Lakeview Regional campus.
Mother/Guardian & Daughter Day Out for Girls ages 8-17

Register for $5* per girl

*If fee is a financial hardship, please email GHD@jlgc.net

Registration is required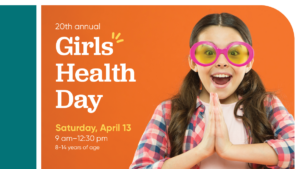 Free Health Screenings
Vision Screenings

Scoliosis Screenings

Dental Hygiene

Exercise Demonstrations
Health Talks & Demonstrations
Healthy Eating

Hazards of Vaping and Tobacco Use

Puberty & Changes to Expect

Safe Dating

Internet Safety

Yoga & Zumba

Social Media Education: Kati LeBreton, The Redhead Method

Surviving My Suicide Attempt: A Message of Hope presented by Emma Benoit (mature content)

Sexual Health (mature content)

Glitter Bar

Door Prizes and Giveaways
"Since 2005, the women leaders of the Junior League of Greater Covington have hosted Girls Health Day to empower girls to 'Be Healthy. Be Happy. Be You!'" said Dr. Amy Puerto, President of the Junior League of Greater Covington. "As we continue to promote, grow, and prioritize this internationally recognized event, the Junior League is thrilled to be partnering with Lakeview Regional Medical Center for a 10th year.
The Junior League has expanded the ages of the attendees from 8-17 years old. We look forward to all girls and their guardians to join us for this fun, interactive, and inclusive day of health and wellness."
This year's fair aims to educate girls on topics related to health and social issues, with relevant talks and demonstrations on internet safety, hazards of vaping and tobacco use, safe dating, social media education, mental illness, puberty and changes to expect, sexual health, and healthy eating, along with ongoing fitness demonstrations. The theme "Be Healthy. Be Happy. Be You." inspires girls to promote healthy, positive behaviors.
Participants can take advantage of free health screenings including: vision and scoliosis screenings, BMI measurements, and dental hygiene. The girls can also be a "Doctor for the Day" by experiencing a simulated surgery activity using the Da Vinci Robot. Door prizes and giveaways will be available to all attendees.
The Junior League of Greater Covington is thrilled to assist in providing the girls in our community with a strong and healthy foundation and educational resources as they become young women.
Email us for more information on how to attend or be a part of this event at
GHD@jlgc.net